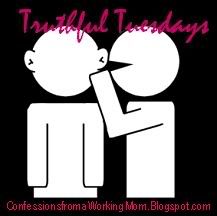 My truths...
Evan did not want to get out of the bathtub last night so he threw a royal tantrum. As soon as he was out of the bathroom and standing on the carpeted landing at the top of the stairs next to a pile of clean laundry - he looked at me with a grin and purposefully peed on it.
Grace made me so proud today at ballet! The girls were all in a line and Miss Tara was getting the bin of instruments for them to use. All of the other girls ran over to take something but my Grace stayed put. We have been talking about, "You get what you get and you don't get upset." and she waited for Miss Tara to hand her an instrument. It's the small things that make me so proud.
Madeline and Leah are now saying "Up", "Out", and "N-n-n-n-
ooo
" (just like I do).
Now on to the question from Truthful Tuesday's:
What do you
really
want for Christmas that money
can't
buy?
I can think of SO many things.
In no order:
1. More patience
2. More energy
3. A great PET scan report for Grandma on Thursday
4. Overall good health for the family
5. More time
6. A mild winter with only one good snowstorm
To Be Continued...